Nursing Cover Pattern
Unlimited Personal Use License
Design by Tricia Pulley © 2007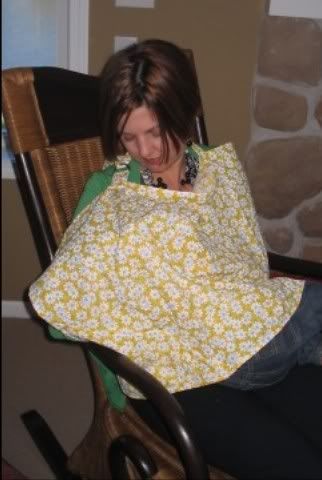 A nursing cover is a lightweight fabric apron with a neck strap that prevents a baby from snatching the cover off and exposing the mother's breasts to the people around her. The neckline features nylon boning that holds the top edge out enough for mother & baby to see one another and for mom to monitor baby's latch! Baby can breathe easily! This design features two sewn-in terrycloth burp cloths in the inside lower corners. Mothers can be free to nurse in church, at the mall and even in front of men without blushing! I have even pumped breast milk in front of my father without embarrassing anyone! I recommend making about 4 nursing covers for your own use, since some will inevitably be in the wash. Name brand nursing covers similar to this sell for $35 each, and for that price, you could make yourself a dozen and pick your favorite fabrics! Now available in English and Spanish!


This easy-to-follow instructional guide is my original copyrighted creation. I set out to make a quality nursing cover pattern using a pencil and some paper; the result is this design. This is a quick and easy sewing project. Now your baby shower gift will be the talk of the party - at very little cost to you! My pattern comes as a PDF file, viewable using the free Adobe Acrobat Reader, and includes detailed instructions and full-color photos!
This pattern is © 2007 by Tricia L. Pulley. All rights reserved. Purchasing this pattern entitles you to unlimited personal use. If you would like to use my pattern to make nursing covers for resale (such as in boutiques, craft shows or online) you must purchase a commercial license. This digital pattern may not be shared or resold.

Nursing Cover Instructions PDF English
With unlimited personal use license
$4.99

Nursing Cover Instructions PDF Spanish (

en español

)


With unlimited personal use license

$4.99

Nursing Cover Commercial Commerce Pack
Includes pattern, limited 1-year license for retail product sale plus reseller bonus materials! (details)

$99.99

Pay safely through PayPal using Visa, MasterCard, American Express, Discover Card or eCheck!